Student Loan Forbearance vs. Deferment: Which Temporary Relief Takes the Cake?
There's nothing sweeter than relief from student loans. The ultimate relief? Paying off your loans obviously. But there's no Gas-X for student loans and paying them off can feel so far away when you're struggling in repayment. So, what if you're having trouble making your payments and you need a little sweet relief sooner? There are two paths to temporary relief: student loan forbearance and student loan deferment.
Both forbearance and deferment allow you to temporarily stop making payments on your student loans or reduce your monthly payment amounts for a certain period of time. Currently, about 3.3 million borrowers are in student loan deferment and 2.6 million borrowers are in student loan forbearance. If you just need short-term relief to get back on your feet, one of these options could be a good solution for you. But which one is best?
Student loan forbearance
What is forbearance?
Student loan forbearance is an approved period of time in which you temporarily stop making payments or make reduced payments on your loan. Interest will accrue during forbearance periods.
Are there different types of student loan forbearance?
For federal student loans, there are two different types of forbearance. Both types of forbearances are not granted for more than 12 months at a time, but you can request another forbearance if needed.
1. General forbearance
General forbearance is sometimes called a "discretionary forbearance." This is because your loan servicer decides whether to grant a request for a general forbearance. 
You request a general forbearance if you temporarily cannot make your monthly payments for one of the following reasons:
Financial difficulties
Change in employment
Medical expenses
Other reasons that your loan servicer deems acceptable
2. Mandatory forbearance
As opposed to a general forbearance, your loan servicer must grant a mandatory forbearance if you meet the eligibility requirements.
You could be eligible for a mandatory forbearance if:
You're serving in a medical or dental internship or residency program
The total amount you owe each month for all the student loans you received is 20 percent or more of your total monthly gross income (for up to three years)
You're serving in an AmeriCorps position for which you received a national service award
You're performing teaching service that would qualify you for teacher loan forgiveness
You qualify for partial repayment of your student loans under the U.S. Department of Defense Student Loan Repayment Program
You're a member of the National Guard and have been activated by a governor, but you're not eligible for a military deferment
Discretionary forbearances are much more common than mandatory forbearances.
Student loan deferment
What is deferment?
Student loan deferment is an approved period of time in which you stop making payments on your loan. During a deferment, you're responsible for any interest that occurs on all loan types except subsidized and Perkins loans.
Are there different types of student loan deferment?
The different types of deferment are actually different reasons for deferment. These reasons include (but are not limited to):
Unemployment

Economic hardship

Military service

Being enrolled

in school

Six-month post-enrollment period

 
The most common reason is being enrolled in school, as you can see below.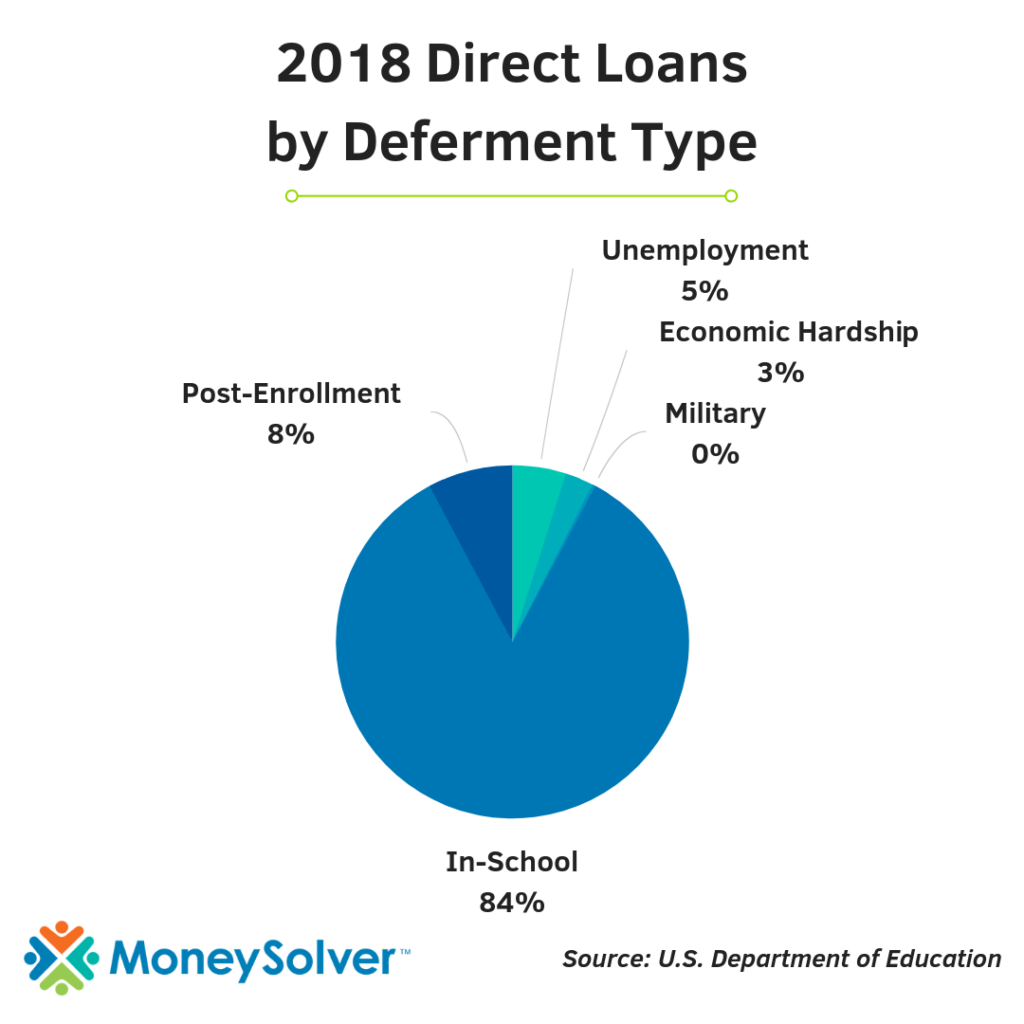 So, which takes the cake: forbearance or deferment?
If you have subsidized or Perkins loans, you'd be better off requesting a deferment. You will not have to pay any interest that accumulates while these loans are in deferment. Meanwhile, you would have to pay back any and all interest that accumulates on subsidized or Perkins loans while in forbearance.
But if you have unsubsidized loans, PLUS loans, or FFEL PLUS loans, deferment and forbearance are on an even playing field for you. You'll have to pay back your interest on these loans whether they're in deferment or forbearance.
Federal student loans offer both forbearance and deferment as described. If you have private student loans, you'll need to discuss with your lender what options are available to you. Forbearance and deferment options differ by lender. 
Struggling to make student loan payments? Don't wait until you fall into the default pit. The paperwork to apply for forbearance or deferment takes time to process. So you'll need to apply as soon as possible to ensure your loan servicer doesn't try to make you pay what you can't afford. Student loan services can help you find a way to solve your student loan issues. 
Disclaimer: The viewpoints and information expressed are that of the author(s) and do not necessarily reflect the opinions, viewpoints and official policies of any financial institution and/or government agency. All situations are unique and additional information can be obtained by contacting your loan servicer or a student loan professional.